The Leading Augmented Reality/Virtual GIS Platform for vGIS and BIM
We have partnered with the leading visualization platform, vGIS to transform traditional BIM, CAD, GIS and other types of data into stunning augmented reality visuals. The module aggregates data from multiple sources, including Autodesk models, Bentley BIM designs and Esri ArcGIS, displaying a unified augmented reality view.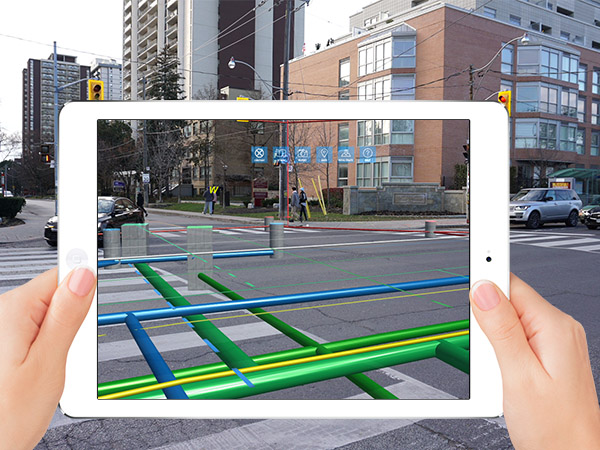 GIS data in Augmented Reality
The #1 utility-grade augmented reality (AR) system for Esri GIS designed for municipalities and public utility companies.
Use a device already in your pocket — Android phone, iPhone, or a tablet—or even the futuristic Microsoft HoloLens to "see" your underground utility infrastructure as you tour a work area. Water pipes, sewage systems, gas and electrical lines appear in your field of view as a natural extension of the real world. This instantly creates awareness of your surroundings, saving time and helping avoid costly mistakes.
AR increases situational awareness by letting users see the infrastructure around them in a natural setting. Greater situational awareness and a greater understanding of one's surroundings lead to higher productivity, a reduction in human errors and a safer work environment.
This module can be deployed as part of the CityFront Experience or as a stand-alone module. A few of many reasons to deploy this smart city technology in your city:
Locate faster
Respond faster
See asset relationships
Improve safety
Easy to adopt
Any environment